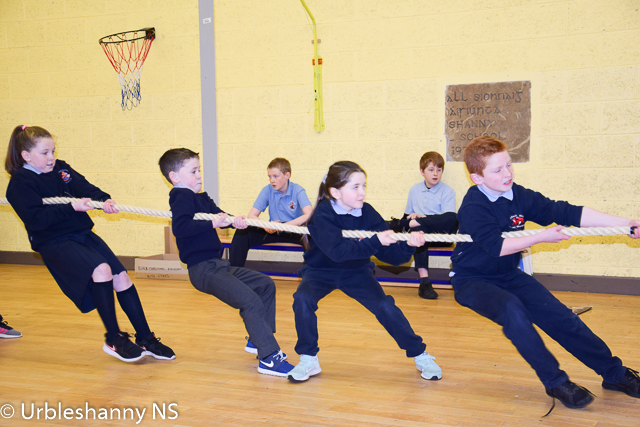 Tug of War Coaching for 3rd and 4th Class
3rd and 4th classes had a treat today when they received coaching in the ancient sport of Tug of War. Tug of war is a non contact sport where every member of the team is equal. It is a sport where the team work is more important than any one individual. All that's needed is a rope and runners or football boots. It can be pulled indoors in a sports hall or outside on the grass.
The Irish Tug of War Association are running a development project with schools around the country, tieing in with the Active School Flag initiative as well as Monaghan Sport Parnerships. Tomás from the Irish Tug of War Association coached the pupils on basic skills. Participating schools receive a free junior tug of war rope to keep.
The sport of Tug of War is no stranger to this parish when the Killylough Team, in 1986, won their first World Championship in Holland, followed by several Senior All Ireland awards. As you can see from the images, our pupils thoroughly enjoyed their first experience today. Who knows, there may be a future champion among them.