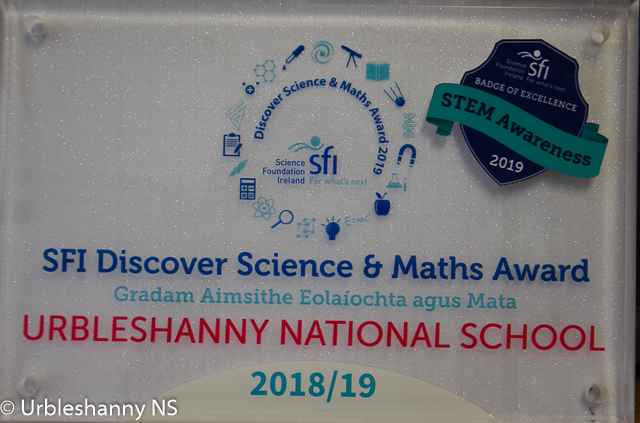 The SFI Badge of Excellence for 2019
The Discover Primary Science and Maths Programme (DPSM) is part of Science Foundation Ireland's Education and Public Engagement Programme, which aims to increase interest in science, technology, engineering and mathematics (STEM) among students, teachers and members of the public.
DPSM originated in 2003 with the goal of introducing primary school students to science in a practical, hands-on, enjoyable and interactive way. Urbleshanny NS entered the programme in 2004 and has been involved since then.
Our school has always placed an emphasis on Science. We felt that the time was right to widen the curriculum of science in our school to include more chemistry and physics while retaining the strong teaching always received by our pupils in the area of living things. When the Discovery Primary Science award began we were immediately interested as it gave structure and direction to what we were already trying to achieve. The use of recyclable materials and the fun aspect of teaching important scientific principles really appealed to us.
We do our own science week activities and we also attend science workshops in the locality. We look forward to Engineers Week and enjoy learning about the work of an engineer from different past pupils and parents each year.
This year, Urbleshanny NS has been recognised as a primary school who have been involved in the SFI Discover Science and Maths Awards for 14 years. This is a major achievement by the school staff and pupils and was recognised today by Minister Heather Humphreys, Minister for Business, Enterprise and Innovation and Dr Ciarán Seoighe, Deputy Director General of Science Foundation Ireland (SFI). We were very taken by our visit this morning by Minister Humphreys who engaged with the pupils discussing the recent CASE project showcase in Combilift.
Check out the Science blog which is submitted to DPSM every year:
https://www.urbleshannysciencelog.com/
Have a look at some of the images of today's event.