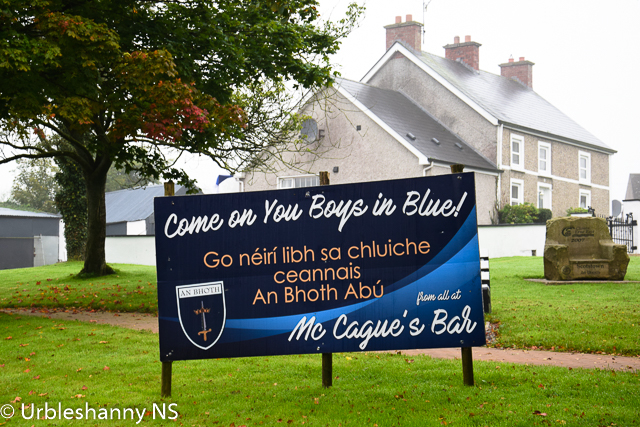 The County Final September 20th 2020
It may be the season of mists and mellow fruitfulness but the blue and white flags of Scotstown GFC brighten up any autumnal morning especially coming up to the County Final weekend. The new 'Plan for Living with Covid 19' has changed utterly many things in our daily lives, our community and our parish. However support for the local team hasn't wavered and if you are not one of the 100 supporters to be in attendance in St Tiarnach's Park, Clones at 3pm for the Throw-in, no doubt you'll be live streaming the game on https://monaghan-gaa.cleeng.com/monaghan-sfc-final-ballybay-v-scotstown/E295334198_IE or listening to the exuberant commentary on Northern Sound.
2020 has been a strange year in many ways seeing the closure of the GAA grounds in our parish, not only to footballers, juveniles and seniors, but even for the walkers who frequently use the facilities at Kilmore. However the lifting of restrictions saw the facilities reopen and training resume. Scotstown are competing in the County Final for the eighth year in a row against Ballybay. Many pupils turned up at Kilmore last week to present their best wishes through art to support the team in advance of the county final.
The Club have requested that we give our Seniors a 'spirited send-off' on their journey to St Tiarnach's park on Sunday. Supporters may line from the bridge to the Roslea road at 1.30pm and are asked to remain on the footpath and adhere to social distancing as per the current Covid 19 guidelines.
The school community wish the management team of Colin McAree, Diarmuid Scullion, Brian McGinnity and Kevin Boylan well for the final and for the Scotstown GFC team especially our many past pupils. Beir bua! An Bhoth Abú!