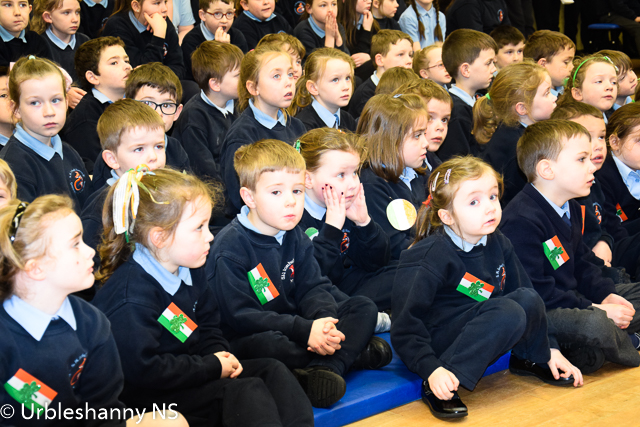 Prayer Service for St Patrick
St Patrick is remembered annually in Urbleshanny NS in song and prayer. Mrs Donohoe's class told us about Patrick's childhood in Wales, his years spent as a slave in County Antrim, and his triumphant mission to bring the good news of God's mercy to the people of Ireland. Fr Early read the Gospel, the pupils recited St Patrick's Breastplate and we all joined in singing Hail Glorious Saint Patrick and Dóchas Linn Naomh Pádraig.
Lúireach Phádraig
Críost liom,
Críost romham,
Críost i mo dhiaidh,
Críost istigh ionam,
Críost fúm,
Críost os mo chionn,
Críost ar mo lámh dheas,
Críost ar mo lámh chlé,
Críost i mo lúi dom,
Críost i mo sheasamh dom,
Críost i gcrói gach duine atá ag cuimhneamh orm,
Críost i mbéal gach duine a labhráionn lom,
Críost i ngach súil a fhéachann orm,
Críost i ngach cluas a éisteann liom.
Saint Patrick's Breastplate
Christ with me,
Christ before me,
Christ behind me,
Christ within me,
Christ below me,
Christ above me,
Christ on my right hand,
Christ on my left hand,
Christ in my sleeping,
Christ in my waking,
Christ in the heart of all who think of me,
Christ in the mouth of all who speak of me,
Christ in every eye that looks at me,
Christ in every ear that listens to me.