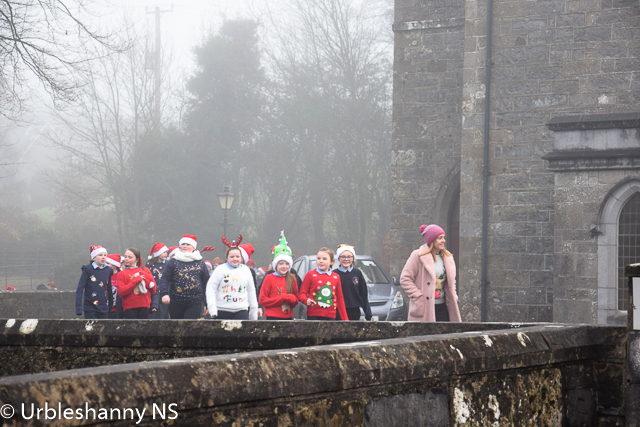 Festive Walk The Earth December 2019
In 2017 Urbleshanny NS decided to participate in the Walk The Earth initiative. Walk The Earth Programme is a simple and fully inclusive walking programme for all classes and age-groups within primary schools. The plan introduces daily physical activity into children's lives. Urbleshanny NS agreed to become involved and implement this walking programme for all classes. Walk The Earth is supported by Monaghan Sports Partnership who are promoting participation in physical activity. Two laps around the perimeter of the school grounds is equal to one kilometre.
Today we had a Festive Walk The Earth which, instead of our usual movement break from the classroom into the fresh air, consisted of a walk down the Chapel road to the original site of Urbleshanny NS, up the new avenue to the church and down the old avenue before returning to the school. As you can see from the photographs, it was a typical foggy December morning and bitterly cold. There was no time for standing to pose for photographs as everyone speedily walked back to school for warmth and lunch. Nor was there time to give a brief history lesson on the historic church.
Urbleshanny Church takes its name from the bend in the River Blackwater in the townland of Drumdesco which was aptly named by people centuries ago as Iorball Sionnaigh, the Fox's Tail. The church was built after the relaxation of the Penal Laws in 1785 and in its early days was used as a Pro-Cathedral. The earliest Catholic school built in the diocese was built at the foot of the avenue of the church, where St Mary's Hall is now sited, in 1791 by Fr James Murphy from Drumshevera, following an Act allowing Catholics to receive education.
It's almost 230 years ago since the first Urbleshanny NS provided education to the people of the village. What would they have made of our festive gear of today.