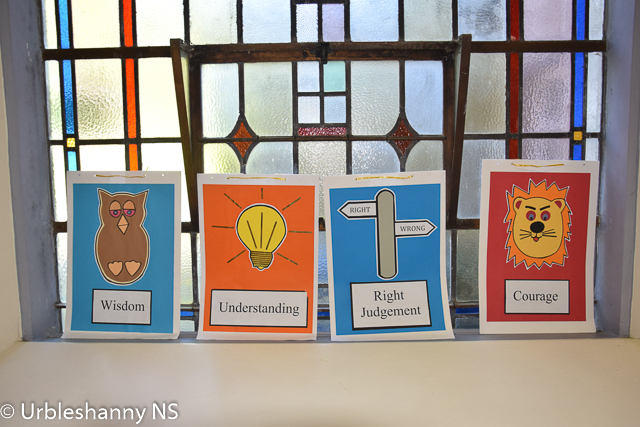 Confirmation 2020
Last October 2019, Clogher diocese announced that Confirmation would take place in St Dympna's Church, Tydavnet on Sunday 29th March at 3pm for the three schools in the parish. The usual seasonal activities continued with Halloween followed by Christmas. In January, 6th class busied themselves preparing for the annual Grandparents Day which took place on the 30th of January. By this time there was some talk of this coronavirus and discussion on how the Chinese would not be able to celebrate Chinese New Year in their usual fashion. First Penance was celebrated on the 10th of March and two days later, the school was closed down after a Government directive.
The arrival of the pandemic on these shores changed things utterly as we went into a lockdown for quite some time and learned to live with the restrictions. 6th class were, no doubt, very disappointed as their final term came to an abrupt halt. However, with the gradual lifting of restrictions over a lenghty period, the sacrament of Confirmation was planned for today, the 21st of August, for the Urbleshanny NS pupils in St Mary's church, Urbleshanny.
The Sacrament of Confirmation was administered to 43 students from Urbleshanny NS in 3 separate ceremonies. 14 pupils and their family and sponsor at the 3pm ceremony; 15 students were confirmed in the 4.15 celebration, and 14 at the 5.30pm ceremony. Subject to public health advice and regulations, the numbers were severely limited and social distancing applied. Many thanks to the sacristan, Teresa McKenna, who supervised the strict sanitising regime before and after all three ceremonies and the Parents Association who assisted her in preparing the church between each ceremony.
It was a truly intimate and spiritual occasion, in a somewhat silent but meditative setting, thanks to Fr Stephen Joyce who administered each ceremony with enthusiasm and joy that our 6th class pupils had finally had the chance to come together one last time.
Enjoy the images of today's ceremonies below.