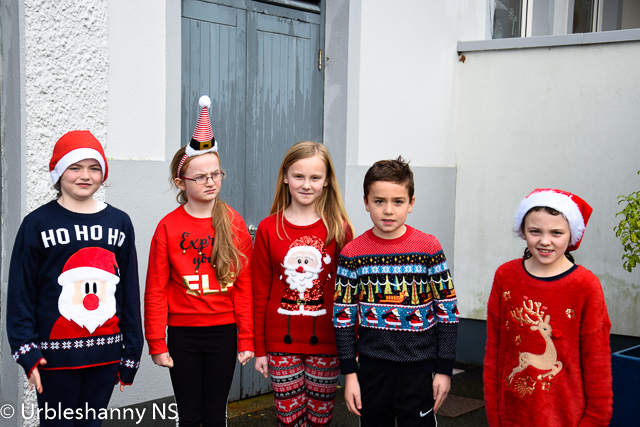 Amhráin na Nollag
The school's annual carol service could not take place in Urbleshanny chapel this year due to the revised Covid-19 restrictions. The gathering together of people indoors has been associated with a higher risk of infection with Covid-19 therefore it was impossible to produce the carol service safely. However, the pupils of Urbleshanny NS sang some songs outside on Friday the 18th of December and Ms Daly has recorded and edited each group for all to see.
Away in a Manger was sung by Mrs Mc Nulty's Infants, Mrs Sherry's Infants/Senior Infants, Mr Mc Kenna's Senior Infants and Mrs Mc Clave's 1st class.
Santa Claus is Coming to Town was sung by Ms Lynch's 2nd/3rd and Mrs Lally's 2nd class.
We Wish You A Merry Christmas was performed by Ms Mc Manus's 3rd class and Mrs Duffy's 4th class.
Silent Night was sung by Ms Daly's 5th/6th class, Mrs Mc Crudden's 5th class and Mrs Little's/Ms Larkin's 6th class.
You may not be able to visit the school this Christmas but you can watch and enjoy the video instead.