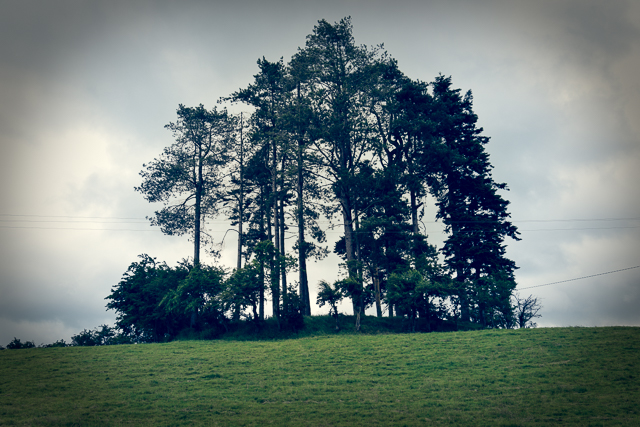 Active School Week - History Walk for 5th/6th Class June 2017
Ms Stirrat and Ms McManus brought 5th Class on a history walk of the village on Thursday, 15th of June. The walk began with a jaunt up a hill to view Lios Leathan (Broad Fort) or Kate's Fort as it is known locally. This Early Christian settlement was once occupied by the native Irish who fortified their raised fort with banks and ditches and could see for miles around if any marauding raiders might be advancing on their settlement. These enclosed farmsteads were known as Gaeilge as 'rath' or 'lios', now commonly referred to as ringforts. While the weather was calm on approaching the fort, the moment everyone stood within the circular open space, the wind whipped around the group and the rain lashed at them from all sides. The group hastily left the site and continued to the village.
An English survey of this area recorded 'Bogha' in 1659 with eight people, 'all Irish', settled here. 'Both' means a hut as Gaeilge. Shortly after George Scott was granted land in 1663. The Scotts set about planning a village and in 1791, Henry Owen Scott built the bridge over the River Blackwater. Through time the family gave their name to the village which became known as Scotstown. They also obtained permission to have a fair held on the village green on the 17th of every month. Scotstown was the only place in Ireland, at one time, permitted to have pubs open on St Patrick's Day.
Pupils visited the old PO and presented Pat Smyth with flowers in gratitude for her visit to the school earlier in the week. They also visited the old graveyard of the now defunct Scotstown Presbyterian Church.
6th Class with Mrs Little, however, were less fortunate as the mother of all downpours caused them to seek shelter under the trees at the old site of the famous Scotstown Carnival. The pupils, at least, experienced the trials and tribulations of a hedge school until it was suggested all learning be abandoned and they return to the comfort of their present school building and towels!