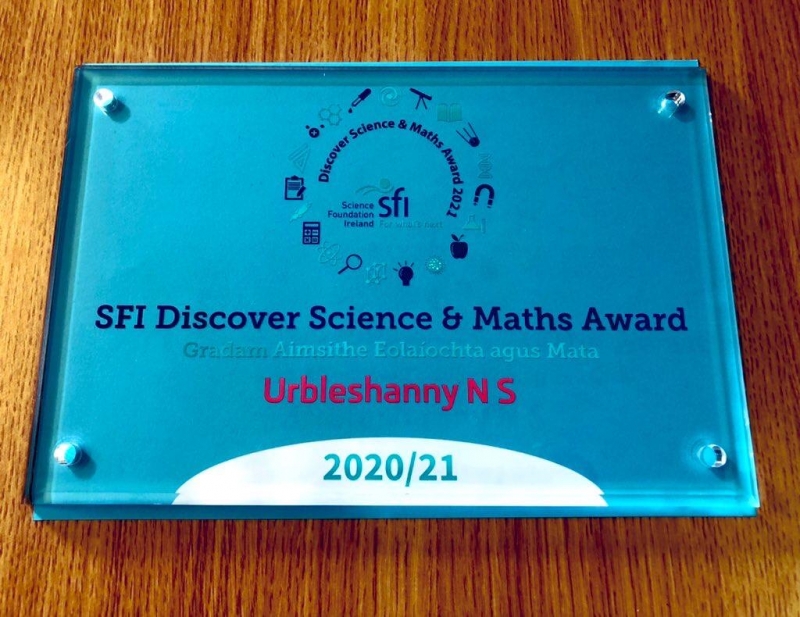 15th Consecutive Science Award for Urbleshanny
Urbleshanny National School has, for the 15th consecutive year, been awarded the very prestigious Science Foundation Ireland (SFI) Discover Primary Science and Maths Award (DPSM).
The award recognises the achievements of children and teachers in the application of science, technology, engineering and maths (STEM) in the curriculum.
Science and Maths matter now more than ever and we need our primary school students to become the next generation of innovative leaders, creative thinkers and problem solvers.
Staff in Urbleshanny also gave of their own time last year to avail of free continuous professional development (CPD) in STEM. Science Foundation Ireland, in conjunction with the European Space Education Resource Office (ESERO) delivered the workshops on the topics of biodiversity, insulation and space through inquiry-based learning.
The staff of Urbleshanny work tirelessly to offer, stimulating and informative, inquiry based STEM lessons to the pupils.
Below is a link to Urbleshanny National School's Science Log where all the awards and experiments can be viewed.
http://www.urbleshannysciencelog.com/